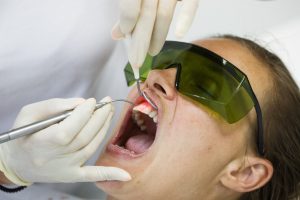 The appearance of your teeth isn't the only thing that contributes to a beautiful smile. Your gum line is equally important. If you've been told you have a "gummy smile" or your gingival tissue has been damaged by infection, you might be a candidate for gum recontouring. A dental laser provides a safe, minimally invasive option to sculpt an attractive gum line. Here's how the cosmetic procedure can revamp your smile.
What is Gum Recontouring?
Gum recontouring is an elective procedure used to remove excess gum tissue. It can also be used to treat gum disease. In the past, the procedure required a scalpel and sutures, but now dental lasers make the treatment less invasive and safer. A highly concentrated beam of light energy targets the tissue with pinpoint accuracy. It gives your dentist greater control for added precision.
A dental laser provides other advantages that aren't possible using the traditional method, such as less pain. In fact, you may not even need an anesthetic. The laser cauterizes the tissue while it cuts to reduce the risk of post-operative bleeding and swelling. It will also kill 99.9% of bacteria to decrease the likeliness of infection. Overall, you'll enjoy a quicker recovery with less chance of infection or bleeding.
Besides resolving a gummy smile, the dental laser can be used to treat periodontal disease. It will kill the infection while encouraging the regeneration of healthy tissue, allowing it to adhere to the teeth. As a result, the infection is less likely to reoccur with the right aftercare, like maintaining your oral hygiene.
Is Gum Recontouring Safe?
When the procedure is performed by a qualified dentist, there are few risks for complications. After your treatment, you can expect your gums to be a bit sore and tender for a few days, but you can manage your discomfort with an over-the-counter pain reliever. Your dentist also recommends avoiding any hard or spicy foods because they can irritate the healing tissue. Instead, it's better to stick to softer foods for a few days, like eggs, pasta, and yogurt.
In rare cases, patients can have an allergic reaction if an anesthetic is used. Although it's not common, gum bleeding and swelling can also occur. Although complications are minimal, the treatment isn't right for everyone. Your dentist will perform a thorough consultation to ensure it's the best option for you.
Enhance Your Smile with Gum Recontouring
Gum recontouring is a versatile treatment to create an even gum line. Your teeth will look proportionate, and your gums will be in better health than before. If you're ready to invest in a healthy, attractive smile, it's time to talk to your dentist about gum recontouring.
About Dr. Pamela West
Dr. West has been a reputable dentist for comprehensive care for over 30 years. Besides earning her dental degree, she has completed thousands of hours of continuing education, including courses at the Las Vegas Institute. She uses the latest innovations in dentistry for superior results. If you're interested in gum recontouring, contact our office today for a consultation.