CEREC Same-Day Crowns – Las Vegas, NV
No Waiting for Your New Smile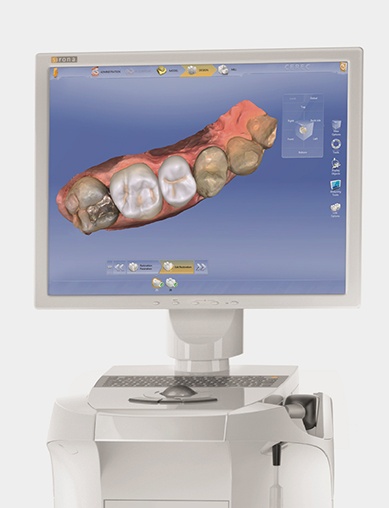 At Summerlin Center for Aesthetic Dentistry, we understand that your time is an invaluable commodity. When you're told that one of your teeth needs a crown, you don't want to have to wait for weeks to receive your restoration. That is why we've taken restorative dentistry in Summerlin to the next level with CEREC same-day crowns.
Why Choose Summerlin Center for Aesthetic Dentistry for CEREC Same-Day Crowns?
The Latest Dental Technology
The Finest Ceramic Materials
A Friendly, Experienced Dentist
The Many Benefits of Same-Day Crowns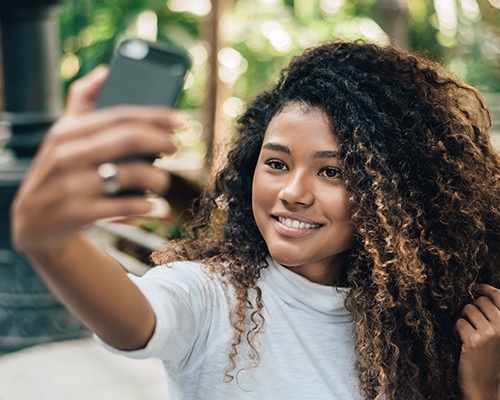 Traditionally, dental crowns are manufactured in an off-site laboratory, entirely separate from the patient's dental office. The time required to fabricate a custom crown at a lab does vary, often taking weeks before the restoration is complete. During this waiting period, the patient would have to wear a temporary crown over the prepared tooth until it was time to come back for placement of the permanent one. Thanks to CEREC technology at Summerlin Center for Aesthetic Dentistry, you can now have your beautifully crafted, fully customized crown both created and placed all in one visit to our Summerlin, NV dental office.
CEREC stands for Chairside Economical Restoration of Esthetic Ceramics, and it's the most revolutionary technology in the field of restorative dentistry today. While the traditional crown process requires messy impression materials and multiple visits to the dentist, CEREC allows Dr. West to design and place your crown in one day, so you can move on with your life and get back to enjoying a complete smile faster. Digital impressions are faster, vastly more comfortable, and incredibly accurate, ensuring a secure fit and a much more pleasant visit to the dentist.
Superior Aesthetics with CEREC Same-Day Crowns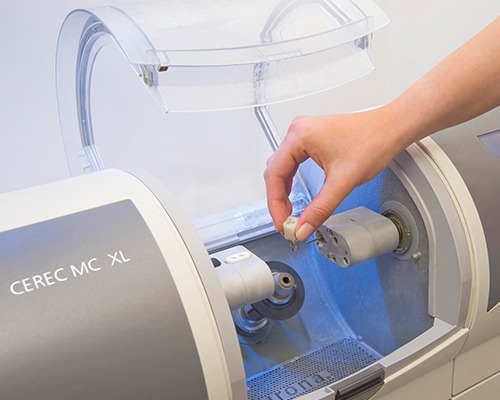 Because your CEREC same-day crown is fabricated from a single block of fine dental porcelain, you can rest assured in the knowledge that it will look and feel completely natural. The porcelain is shaded precisely to match the appearance of your other teeth, promoting a lifelike appearance that is indistinguishable from natural tooth enamel. It even reflects light in the same way that enamel does, so you never have to worry that one of your teeth looks different from the rest.
Only the Best Technology for Our Patients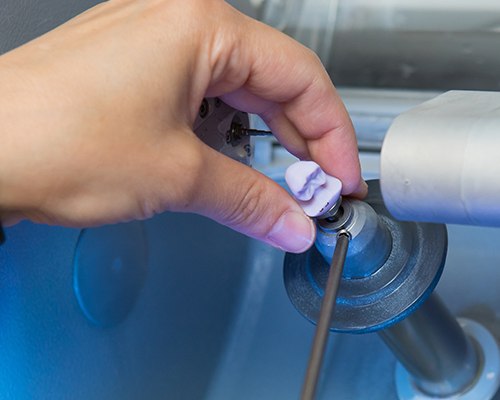 At Summerlin Center for Aesthetic Dentistry, we believe that each and every one of our patients deserves the best possible oral health care in an environment that feels warm and welcoming. That's why we've combined our passion for patient comfort with the latest in restorative and cosmetic dentistry at our Las Vegas, NV practice. Discover the difference that CEREC same-day crowns can make in your next dental experience; contact us today to learn more and to schedule your consultation.