Veneers – Las Vegas, NV
Versatile Smile Solutions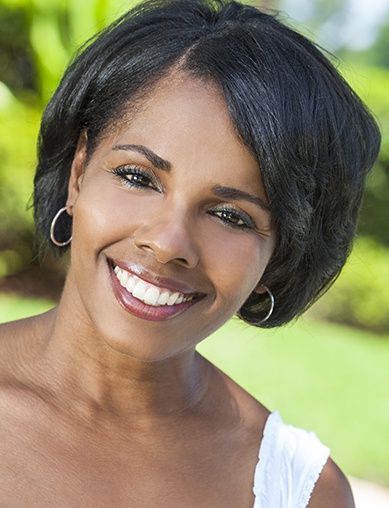 If your smile is marred by discoloration, cracks, or gaps, you may be hesitant to try on a smile. But there's a simple solution that will ensure you never leave home without it. Porcelain veneers can straighten, lengthen, and whiten teeth to give you the smile you've always wanted and an improved bite. Veneers are thin, strong, porcelain restorations, made exclusively for you and bonded to a prepared tooth.
Why Choose Summerlin Center for Aesthetic Dentistry for Veneers?
Expertly Color-Matched Dental Porcelain
Dentist with Years of Cosmetic Experience
Treatments Aided by Advanced Technology
Benefits of Porcelain Veneers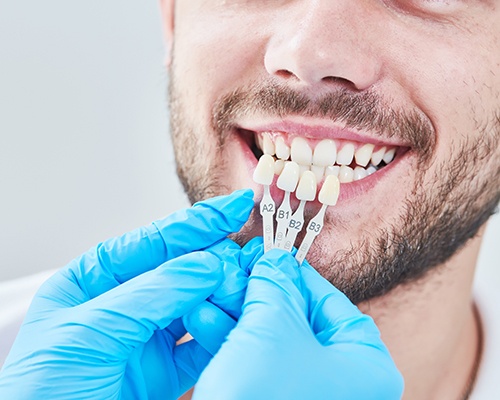 Made from thin sheaths of porcelain layered atop each other, veneers allow us to give you a beautiful, natural-looking smile. If you decide veneers are right for you, Dr. West will help you select your ideal shade-whether you want dazzling white or a more natural shade. Veneers are custom-made, so we can essentially create the smile of your dreams. Veneers also provide a quick cosmetic solution. With CEREC technology in-office, we are able to design and mill your custom veneers right here rather than waiting for a laboratory to create them.
Porcelain Veneers After Care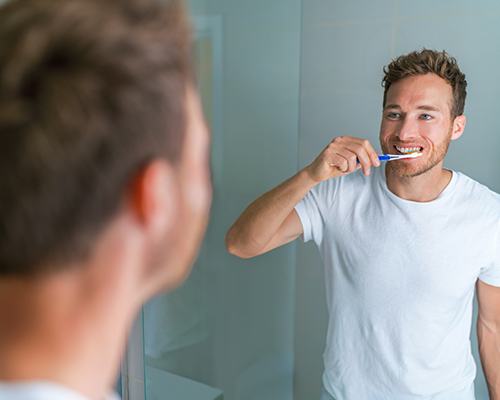 The dental care required for veneers is no different than what you're already used to. Just brush and floss daily, come see us for regular checkups, and consider a night guard if you tend to grind your teeth while you sleep. You'll love your new smile and the improved sense of self-esteem that comes with knowing you look amazing.
Schedule Your Porcelain Veneers Consultation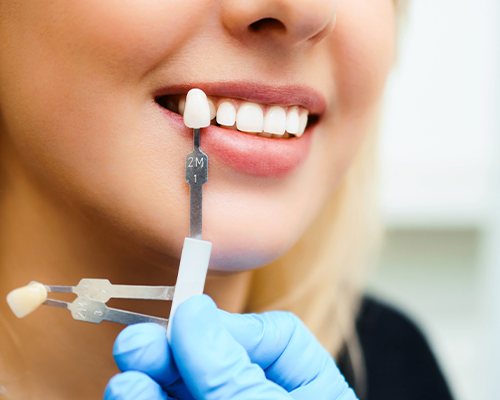 If you are searching for an all-in-one cosmetic solution to flaws in your smile, consider porcelain veneers from Summerlin Center for Aesthetic Dentistry. Dr. West and her team genuinely look forward to providing you with the advanced dentistry services you need to smile with complete comfort and confidence. Our state-of-the-art cosmetic dentistry office near Summerlin, NV proudly welcomes patients from throughout nearby areas surrounding Las Vegas. Contact us today to learn more about porcelain veneers in Summerlin and how our experienced team can transform your smile and your life with cosmetic dentistry.
Porcelain Veneers FAQs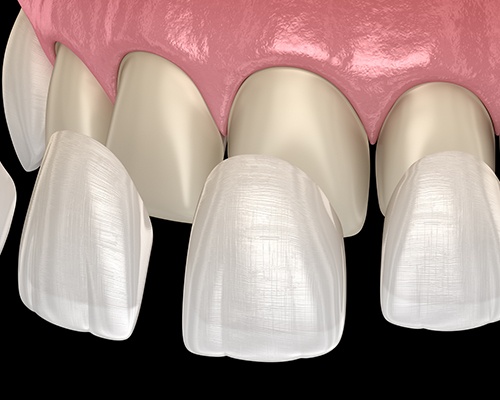 If there is one thing that Dr. West loves to do, it's help people learn to love their smile! Porcelain veneers have the ability to completely transform your smile for the better, but we understand that you might have some questions about treatment before getting started. Dr. West is happy to answer your questions in greater detail, both when you arrive and right here on her website. If you have any additional questions that were not mentioned, please call us directly!
Does it hurt to get porcelain veneers?
Receiving porcelain veneer is actually a relatively pain-free procedure because of the local anesthesia we administer prior to modifying your tooth enamel. As we remove very small amounts of your outer enamel, you'll feel very comfortable throughout treatment. With that said, if you are receiving many veneers in one sitting, you may feel some soreness in your gums and jaw after the local anesthesia wears off. This mild discomfort can be managed with your preferred over-the-counter medication.
Is the treatment permanent?
Once enamel has been removed, it does not regenerate or grow back. Furthermore, you will need to have a covering for your tooth once it has been modified. This effectively makes porcelain veneers a permanent commitment, so keep this in mind. With that said, once you see what your smile can look like following your treatment, you'll never want to go back to your original smile!
Will my veneers look unnatural next to my current teeth?
All of our veneers are custom shaded to blend in with your existing teeth, not stick out in a way that looks unnatural. With our advanced CEREC milling machine, we can fully customize everything about your veneers. This includes the shape, size and color, all with your neighboring teeth and overall facial appearance in mind. Furthermore, porcelain mimics tooth enamel better than any other dental material, making it the most ideal option for covering everything from gaps to stains to chips in a way that looks natural.
How long will my porcelain veneers last?
Porcelain is actually quite a durable material, so you can expect your veneers to last for many years if you practice daily oral care and avoid using your teeth as a tool. In most cases, you can expect your veneers to last between 10 and 15 years with proper brushing, flossing and regular dental exams and cleanings. We're prepared to walk you through all the necessary steps to keep your veneers looking radiant and beautiful!
Can I have my veneers replaced if one of them gets damaged?
We understand that sometimes accidents happen, and a veneer can become chipped or damaged in some way. With enough force, it can even come off completely. Even if your veneer feels slightly loose, simply call our office and we'll set up an appointment to have it examined more closely. In many cases, Dr. West can have the veneers replaced relatively quickly thanks to our in-house CEREC machine.