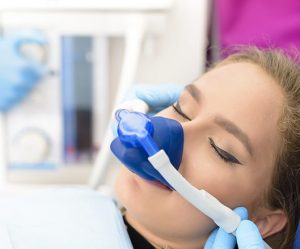 Do your palms sweat when it's time to visit your dentist? Maybe you avoid scheduling an appointment because just the thought of any pain causes your anxiety to soar? You're not alone. As much as 75% of adults have some degree of dental-related anxiety or fear. Thankfully, you can conquer your phobias and get the care you need with sedation dentistry; however, you've likely heard several rumors about it. There isn't any reason to worry. Here are the facts you need about common dental sedation myths to ease your apprehensions.
Myth 1: Sedation is only used for complex procedures.
Fact: Many patients require sedation during a complex procedure, like dental implant surgery, but it can be used for other purposes, too. Based on the procedure and the severity of your anxiety, there is a sedative that can help you sit back and relax while you're in the dental chair. From basic visits to tooth extractions, you can have a pleasant experience.
Myth 2: There's only one type of sedation.
Fact: Your dentist offers several types of sedation to fit your needs and comfort level. Every situation is unique, but you may benefit from:
Oral Sedation: A prescribed medication is taken before your appointment to calm your nerves.
Nitrous Oxide: Better known as laughing gas, the inhaled sedative doesn't cause any lingering side effects.
IV Sedation: A sedative is administered intravenously to help you reach a deep level of relaxation.
Myth 3: Sedation dentistry isn't safe.
Fact: It's true there have been some cases of patients experiencing serious complications while sedated; however, sedation dentistry is safe if you're a good candidate. Your dentist will review your medical history to ensure there aren't any potential issues that might lead to a problem. Your dentist has also completed additional training in sedation dentistry to safely administer the medication. You'll be watched closely during and after your procedure to monitor for any concerns.
Myth 4: Anyone can benefit from sedation dentistry.
Fact: Although sedation dentistry is safe, it isn't suitable for everyone. Your dentist will advise against a sedative if you meet any of the following criteria:
Pregnant
Allergic to the sedative
Certain medical issues
Luckily, there are multiple types of sedation to choose from. As a result, if you aren't a candidate for one, you will likely be able to benefit from another, like nitrous oxide.
Don't Fear Your Dentist
You don't need to let your dental phobias stop you from achieving the healthy, beautiful smile you deserve. Your dentist will cater to your comfort to ensure you're relaxed while they provide the personalized care your teeth and gums rely on.
About Dr. Pamela West
Dr. West earned her dental degree from the University of Southern California Dental School and has completed thousands of hours of continuing education in many advanced services, like sedation dentistry. For over 30 years, she has strived to help people overcome their dental problems to maintain optimal oral health. If you are ready to enjoy your time at the dentist, contact our office today to schedule your consultation.