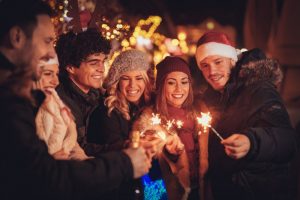 Now that it's officially your favorite time of year, you and your family are probably gearing up for all of the festivities. The holidays bring lots of cheer and joy, but they also bring sweets, treats, and other risks to the health of your smile. Thankfully, your dentist in Summerlin has some pro tips on how you can keep you and your loved ones' smiles safe and healthy during this season of sugar. Keep reading to learn these key steps!
Avoid Sticky or Hard Sweets
Indulging in some of your favorite seasonal snacks is okay, but there are certain treats that can be detrimental to your oral health. Watch out for sticky or hard sweets like candy canes, peppermint, caramel, toffee, taffy, and hard candies. These items stay in contact with your teeth for longer periods of time, putting your smile at risk of cavities and tooth decay. Instead, reach for some chocolate to satisfy your craving because it can wash away from your smile with water and saliva relatively easily.
Drink Water
Instead of wine, alcohol, coffee, and hot chocolate that can stain your smile, reach for a glass of water. This smile-saving liquid rinses away food debris and sugars on teeth, but it also contains a magical ingredient. Most tap water has fluoride, which is a natural cavity-fighting mineral. That said, water can prevent stains and risk of tooth decay, so it's a good idea to drink H2O or even rinse out your mouth periodically while you're eating.
Head for the Cheese Board
At your next holiday party, make a beeline for the cheeseboard instead of the punchbowl. Cheese contains nutrients that strengthen your teeth, but more importantly, it can leave a waxy coating on your smile that prevents staining and decay. That's why it's a good idea to make the cheese tray your first stop at a holiday gathering.
Don't Use Your Teeth as Tools
The holidays are a busy time, which leads to many people taking shortcuts by using their teeth as tools. Opening packages, gifts, and even bottles are common during this season, but these habits can cause chips, cracks, and breaks in your smile. Because of these risks, it's best to only use your teeth for speaking and eating.
Visit Your Dentist for a Checkup and Cleaning
Once all is said and done, it's a good idea to visit your dentist for a checkup and cleaning. This allows the hygienist to clean away any plaque that couldn't be reached at home, and your dentist will ensure that your smile is cavity-free after all of the festive treats.
Are you ready to take on the season of sugar? Remember these tips to ensure that you and your happy have happy and healthy holidays.
Meet the Dentist
Dr. Pamela J. West is a highly-trained dentist who offers a variety of dental treatments. She believes in patient education, which is why she wants you to know these important oral health tips. For any questions, she can be reached through her website or by phone at (702) 240-0404.