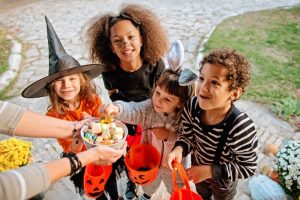 Is your little one ready to hit the streets dressed as their favorite television character for Halloween? Their pillow case can hold about 1,500 pieces of candy when it's stuffed to the brim. For your child, that's fantastic news, but as a parent, all you can think about is how many cavities they're going to get from munching on their mountain of treats over the holidays. To avoid an unexpected trip to the dentist, follow these five tips for an oral health-conscious Halloween.
Encourage More Frequent Brushing and Flossing
Food particles mix with saliva to form plaque, a harmful substance that, when left to accumulate, can increase your risk of developing oral health problems. To keep your little one's fragile smile safe from dental decay, encourage them to brush their teeth after each meal. This will remove food particles and lingering plaque and reduce the amount of harmful oral bacteria present in their mouth. If they have a difficult time flossing their teeth to remove the plaque and food in between them, try getting them a water flosser instead. These are easier to handle and have been proven to be more effective than regular dental floss.
Avoid Sticky and Chewy Candies
The worst kind of candies for your child's smile are the ones that remain in their mouth for long periods of time. These include ones that stick to their teeth and that they have to suck on, like Laffy Taffy and jawbreakers. Encourage them to eat ones that are soft and easily melt away, such as chocolate bars or anything that's sugar-free.
Keep Them Hydrated
Children often gravitate towards drinks that have added sugars in order to quench their thirst, like sports drinks and juice. Over the next few months, while they'll be munching on their Halloween spoils, encourage them to carry a reusable water bottle with them. Keeping them hydrated with sugar-free drinks like water will help rinse away food particles and sugar from their mouth and reduce their risk of developing oral health problems.
Maintain A Healthy Diet
Substituting healthy fibrous fruits and vegetables for snacks instead of candy from their Halloween stash can help remove plaque from their mouth and give them necessary vitamins and minerals for their growth. Celery, carrots, and apples all contain mostly water, which helps increase their saliva production and neutralize the acid released by harmful oral bacteria. They also act as small toothbrushes that wipe away soft, sticky plaque from the surface of their teeth.
Visit Your Family Dentist
The best way to avoid oral health problems this Halloween is to schedule a checkup and cleaning with their children's dentist. They offer multiple preventive treatments to keep sugar from settling on their teeth and ward off cavities, such as dental sealants and fluoride treatments.
With these five preventive measures in place, you can keep all of your loved ones' smiles happy and healthy for the holidays. Paired with regular at-home oral hygiene, your family dentist can help tackle any issues and prevent them from getting worse.
About the Author
Dr. Pamela West has always been passionate about giving her patients the knowledge and tools they need to optimize their oral health. Whether they have fully-developed smiles or ones that are small and still growing, she offers comprehensive services that treat any issues while they're still small. She was recently recognized as a "Top Dentist" by the community of Summerlin and the "Top Female Dentist" by her peers. For questions or to schedule a routine checkup and cleaning for your family before the holidays are in full swing, visit Summerlin Center For Aesthetic Dentistry's website or call 702-240-0404.