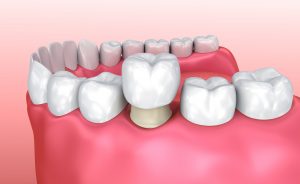 Dental crowns are one of the most common ways to protect a badly broken or decayed tooth. The variety of materials used to make crowns give them a high success rate, but there's always the possibility of them coming loose. If your dental crowns in Las Vegas have come loose or fallen out, don't panic! In this post, your dentist will explain how to handle this dental emergency.
What are Dental Crowns?
Dental crowns are tooth-shaped caps that sit over the top of teeth that are broken, decayed or otherwise damaged. They completely encase the affected tooth and are attached with special dental cement. They can be used from a variety of materials, including metal, porcelain and zirconia. Your crowns are custom-made to replicate the size, shape and color of your natural teeth and blend seamlessly into your smile.
What Do I Do if Mine Falls Out?
Contact your dentist immediately. Because a lost crown is considered a dental emergency, they will do their best to see you within 48 hours. In the meantime, avoid sugary, acidic and hard foods.
If you still have the crown, try to refit it back onto the affected tooth by using toothpaste or dental adhesive. This will help protect the vulnerable tooth until you can see your dentist.
If you have lost your crown, make sure to tell your dentist. They may try to see you as soon as possible to prevent infection and decay. You can place dental cement directly onto your tooth to protect it. Take great care to keep the exposed tooth clean and, if needed, take over-the-counter painkillers.
What Makes Crowns Come Loose?
While it's not possible to completely prevent the loss of a dental crown, there are common causes to keep in mind.
Underlying decay: While the prosthetic crown cannot decay, the natural tooth encased beneath can. Decay usually develops along the gum line where the crown and tooth meet, breaking down the dental cement.
Deteriorating dental cement: Whether from tooth decay or simply the passage of time, this special cement can deteriorate and cause your crowns to loosen.
Sticky and sugary foods: The occasional sticky treat will not harm your teeth, but you can harm your crowns by regularly indulging on toffees or caramels. The sweets pull on your crowns and can weaken them overtime. Crowns can come off entirely as a result of becoming stuck to a sticky candy.
Dental crowns are extremely crucial in protecting the vulnerable teeth underneath. Like any medical equipment, they require specific care to properly function. Talk to your dentist in Las Vegas if you think that your crowns are at risk of coming loose.
About the Author
Dr. Pamela West is an expert in restorative and cosmetic dentistry. She has been recognized as one of the 'Top Dentists' by the residents of Summerlin and was voted 'Top Female Dentist' by her peers. If you have further questions about your dental crowns, she can be reached through her website or at 702-240-0404.