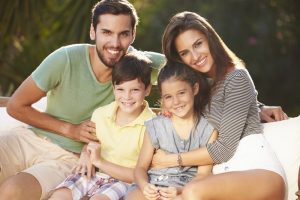 Think of all the things you have in common with the members of your family: Your eye and hair color, your address and possibly even the bathroom. Sharing a family dentist can be convenient and beneficial for everyone. Read on to learn what a family dentist is and how seeing one could make taking care of your family's smiles easier.
What is a Family Dentist?
Think of how many different physicians your family needs—a pediatrician, a general practitioner, an obstetrician, an allergist, an ophthalmologist, and the list goes on. That's because medicine is most a practice of specialties.
A family dentist, on the other hand, provides a number of dental treatments under one roof. He or she may in fact have training in several specialties such as orthodontics, root canal therapy and cosmetic dentistry. It is this variety of services that makes seeing a family dentist attractive and advantageous. These practitioners are a one-stop shop for all of your family's dental needs.
Ease of Scheduling Appointments
When you choose a family dentist, you will likely be able to schedule back-to-back appointments for several members of your family. This way, you'll only have to make one trip to the dentist's office rather than having to make multiple visits on different days.
How Can You Find a Family Dentist?
One of the best ways to find a trusted family dentist in your area is good old-fashioned word of mouth. Ask your neighbors, friends, other parents at your children's school or another healthcare provider for a recommendation.
You can also search online. Many family dentists have extensive websites that describe the practice's philosophy and explain the various dental services that are available in the office.
You can also work with the American Dental Association (ADA) Mouth Healthy site to help you find a family dentist according to the services you need, distance from your home and even the dental insurance you carry.
What to Consider When Choosing a Family Dentist?
When you look for a family dentist, be sure to consider the needs of your family. Do you have children? In that case, you'll want a dentist trained in the special needs of young smiles. And as your children grow, they will already have a dental home that are comfortable visiting.
Would you like to enhance the appearance of your smile? Then be sure to select a family dentist that offers cosmetic treatments such as teeth whitening, porcelain veneers, cosmetic gum reshaping and options for tooth replacement such as dental implants.
There's no need to find more than one dental care professional when you choose the right family dentist. Call for an appointment today.
About the Dentist
Dr. Pamela West uses her extensive training in aesthetics to help her patients achieve gorgeous smiles, but she is also highly qualified to perform other types of dentistry. If you have questions about how she and the rest of our team can help you fall in love with your teeth, please contact us at 702-240-0404.