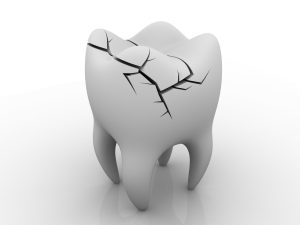 There you are, it's a Saturday afternoon and you're enjoying a delicious lunch with your spouse. All of a sudden, as you take a bite of your sandwich… crack! At first, you're not sure what just happened. But you do know that there's a small piece of something that wasn't there before and you can suddenly notice a sharp edge with your tongue. Now what?
As alarming as it can be to have a cracked tooth, you'll be glad to know that there are multiple treatment options that can restore your smile to its original function and appearance. But in the meantime, read more to find out what you should do when you crack a tooth and how it can be treated.
What Should You Do if You Cracked a Tooth?
When it comes to emergency dental care, it's in your best interest to take action as soon as possible to increase your chances of successful treatment. Call an emergency dentist in Summerlin so we can walk you through the immediate steps to take and schedule an appointment as soon as possible.
Whether you've simply cracked your tooth or broken part of it off, here are some things you can at home until you can be seen:
– Gently rinse your mouth out with warm water.
– If there's any bleeding, apply a clean piece of gauze, damp paper towel, or a wet tea bag to the area with gentle pressure.
– To relieve pain or swelling, cover an ice pack in a towel and apply it to the outside of your lip or cheek for 20 minutes at a time.
– For pain, you can also take an over-the-counter pain reliever for immediate relief.
– If you aren't able to make it to the dentist right away, you can use temporary dental cement from the drugstore. If the injury has exposed the inner part of the tooth where the nerve resides, this can offer some protection from food debris and bacteria until your appointment.
How Can the Tooth Be Repaired?
It's natural to feel a little nervous about what type of treatment options you'll have once your injury has been stabilized!
Your Summerlin dentist will offer a recommendation based on your unique situation and much of it will depend on whether you've simply cracked the tooth or broken it completely. Here are a couple of possibilities:
– If the tooth has been broken, a crown can restore its size, shape and strength. The crown will be matched in color to your existing teeth, so it will blend in seamlessly with your smile.
– For a relatively minor crack or fracture, white filling material can be used to either replace the missing part of the tooth or seal over the crack.
– If the crack is severe and has reached the nerve of the tooth, a root canal and crown may be necessary to repair the damage.
Dental emergencies are never fun, but with modern dentistry, they're easier to manage than ever before. Rest assured that we'll find the right option so you'll soon forget you ever cracked a tooth to begin with!
About the Author
Voted as a "Top Dentist" in Summerlin, Dr. Pamela J. West has made advanced education a top priority since graduating from dental school. Highly-skilled in general, cosmetic and emergency dentistry, she has beautifully restored the smiles of many patients who have cracked their teeth. If you have any questions, she can be reached via her website or at (702) 240-0404.