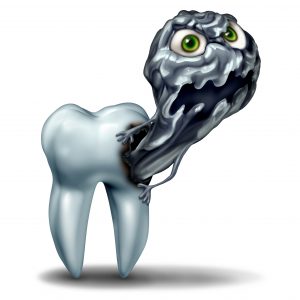 If we were to identify how major dental procedures like tooth extractions, implants and root canals began, in many cases, we could trace them back to a group of intrusive little monsters that started the whole domino effect – bacteria. These insidious characters are always present, but grow when there are leftover food particles on your teeth and gums. They latch on and feed on your leftovers and like gremlins, they grow and grow, leaving acidic trails that bore into your teeth, causing tiny holes, called cavities. That's why your Summerlin dentist wants you to start with the simple task of defeating them by learning the best habits for optimum oral health.
Ways to Defeat Cavities
Here are some practices that will help to protect you from the scourge of cavities and the bacteria that cause them:
Brushing and Flossing – Brushing agitates leftover food particles and bacteria that gather on your teeth and along the gum line after a meal. Flossing goes into the areas that your toothbrush can't reach and removes the harmful invaders. Both practices should be done at least twice a day to maintain good oral hygiene.
Healthy Eating – The types and quality of foods you consume play a huge role in your oral health. If you consume a diet high in processed sugars, you can expect to have more bacteria growth and activity in your mouth. This is because they have a special affinity for warm places and sugar. Also, an unhealthy diet makes your saliva more acidic, leading to the wear of your enamel. A healthier diet, however, contributes to you having more alkaline saliva that helps protect your teeth and dissolve food particles better.
Sealants – For young children, it helps to have dental sealants placed before cavities begin to wreak havoc. This is especially recommended for children because they tend to not brush their teeth thoroughly, and are more prone to getting cavities.
Visit Your Dentist
A secret weapon in your arsenal to fight cavities is your dentist in Summerlin. You should visit her at least semi-annually for a thorough cleaning and examination. During your appointment, if any attack has been mounted against your oral health, she'll definitely identify it, and work with you to develop a strategy to nip it in the bud before it becomes a major problem.
Congratulations! You now have a plan to thoroughly frustrate the little bacteria that lead to cavities. Take advantage of what you know and be proactive. You are empowered to steer your oral health in the right direction.
About the Author
Dr. Pamela J. West is a graduate of the University of Southern California School of Dentistry and has also earned a Masters in Aesthetics from the Las Vegas Institute for Advanced Dental Studies. She practices at Summerlin Center for Aesthetic Dentistry and can be reached for more information through her website.