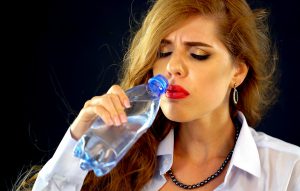 It's normal for you to head out on a Saturday morning to catch the Running Rebels of UNLV run up and down the court. But this particular day, you notice that when you take a sip of your favorite game time beverage, an ice cold, cola flavored soda, you notice a quick jolt of temporary discomfort that shoots through your front two teeth. Alarmed, you know it's time to contact your Summerlin dentist for an examination. Read on to learn what causes sensitive teeth and how to improve this issue.
What Causes Sensitive Teeth?
The primary protector of the crowns of your teeth is the outer layer, called the enamel. Beneath that is a less dense area, called the dentin. Inside this layer are tiny canals, and when the enamel is worn down, exposing the dentin, the canals allow hot and cold sensations to permeate the inner nerves. That's what caused the sudden uncomfortable pain that you felt when you took a sip of your soda.
Ways to Improve Teeth Sensitivity
Thankfully, there are ways to treat sensitive teeth. Here are a few of them:
Desensitizing Toothpaste – This type of toothpaste contains compounds that help to block the transmission of the sensation from the tooth surface to the nerve. It's similar to losing a cellphone connection, where your device can't get a signal. Except, you actually welcome the dropped transmission when it comes to tooth sensitivity.
Fluoride Gel – Your dentist can also perform an in-office procedure of applying a gel that fortifies your teeth enamel, reducing the transmission of sensations.
A Crown, Inlay or Bonding – These processes are similar with slight differences, but overall help to restore the function of your teeth by covering, filling or adding material to the enamel.
Surgical Gum Graft – This process will help to protect the root and reduce sensitivity in cases where tissue has been lost from the root.
Root Canal – For more severe cases, this procedure of removing decayed tissue from the root area, cleaning, filling and covering the tooth may be employed by your dentist.
Another key asset you have to prevent tooth sensitivity, is to maintain semi-annual visits with your dentist in Summerlin, to ensure that any issues with your oral care that could contribute to teeth sensitivity are nipped in the bud early. As the old saying goes, "An ounce of prevention is worth more than 10 pounds of cure."
About the Author
Pamela J. West, D.D.S. graduated from the University of Southern California School of Dentistry. She has also earned a Masters in Aesthetics from the Las Vegas Institute for Advanced Dental Studies. In addition, Dr. West has received extensive training in neuromuscular dentistry. She practices at Summerlin Center for Aesthetic Dentistry and can be reached for more information through her website.